For at least 5 years, I've had a small, simple, and deceptively elusive goal: to pursue and land at least one Searun Cutthroat trout. Knowledge of the ideal tides, estuaries, seabed preferences, flies, lines, rods- all that has been gathered slowly in conversations with local fly shop guides and a few day trips to the beach at Lincoln Park. Little of that acquired knowledge was actually applied to the results of this trip.
A little on the gear- My favorite rod is a 6wt 9′ custom- built by Bill Zbitnoff, on a NorthFork Composites graphite blank, with a Qualifly Maverick 6-9wt reel, and a 6wt Orvis saltwater line. More than sufficient for the task, the 6wt is great for trout on most local rivers, including the Yakima, as it can push a big, fluffy bug through the frequent 8-12kt blustery days found in the Yakima Canyon.
Starting with tides- there's no way to overemphasize how critical this element is to the searun cutthroat game. Miss slack tide- either high or low- and you've probably burned gas and daylight for a long coffee/hip flask outing.
I was fortunate to have one of the best guides in the PNW, for chasing searun cutthroat – Leland Miyawaki is something of a legend in Western WA. He's spent the last 30 years learning the habits of searuns, and is responsible for the creation of several of the more productive flies, as well as a good bit of the knowledge on where to intercept their migrations. We met up initially at the overlook above the beach near Victor, WA- a 90 minute drive from Seattle. Flat calm glassy water did not bode well for a day of chasing searuns, as they tend to stay in the deep when conditions are too favorable to predators.
A 20 minute brain dump from Leland on what to expect, and how to spot the ideal beach lead to a 20 minute drive over to the beach at Olalla, where a light 3-5kt breeze was kicking up just enough of a riffle on the water to make the trout comfortable sliding all the way up to the surf in pursuit of their baitfish prey. Early afternoon sun directly in our eyes was the only obstacle as we waded knee deep into the bay. Casting out about 40-50′ with a chartreuse baitfish popper fly, we'd lay the line out at roughly 10 o'clock, 1 o'clock and approximately 3 o'clock to our positions, and pull it back with a smooth, steady, medium-fast retrieve, before taking a few steps up the beach to repeat. The idea is to get that popper to splash against the waves on your retrieve, which makes wind direction critical to the process- having it coming from behind is essential to creating the attention-getting action needed for searuns to come running.
The most difficult habit to overcome for me, after years of river and lake trout, was the key to the first hookup- the strip-set. It's pretty standard knowledge that setting the hook on a take in freshwater requires lifting your rod tip. It's so ingrained in my habits that undoing it is like learning a new language. As a result, I'm certain that at least a dozen lipless searuns are cursing me somewhere in the south sound. It took way more of the tide than I'd like to admit, and I'm fairly certain the only reason I was able to bring 3 fish to hand was the abundant action that Leland put me on. Early in the change of the tide, nearly every cast had action- sometimes multiple follows, slashing takes, curious nibbles- nearly always something to keep me going. Cursing under one's breath is a useful skill in some cases, and undoing a deeply ingrained habit that took years to hone is one of those times. Calmly stripping a fly without that customary lift of the rod, while a ravenous searun does his best to savage your fly in a series of energetically showy takes, is a fascinating exercise in zen meditation. I'm no pulse-free buddhist monk- that much is certain.
Fortunately, with Leland's coaching and enough epithets hurled at the cowering surf, I was finally rewarded with a wild take, an acrobatic run, and a splashy fight all the way to release. I'm hooked. The video attached gives a little view of the day, the conditions, and the reward of patience.
Summary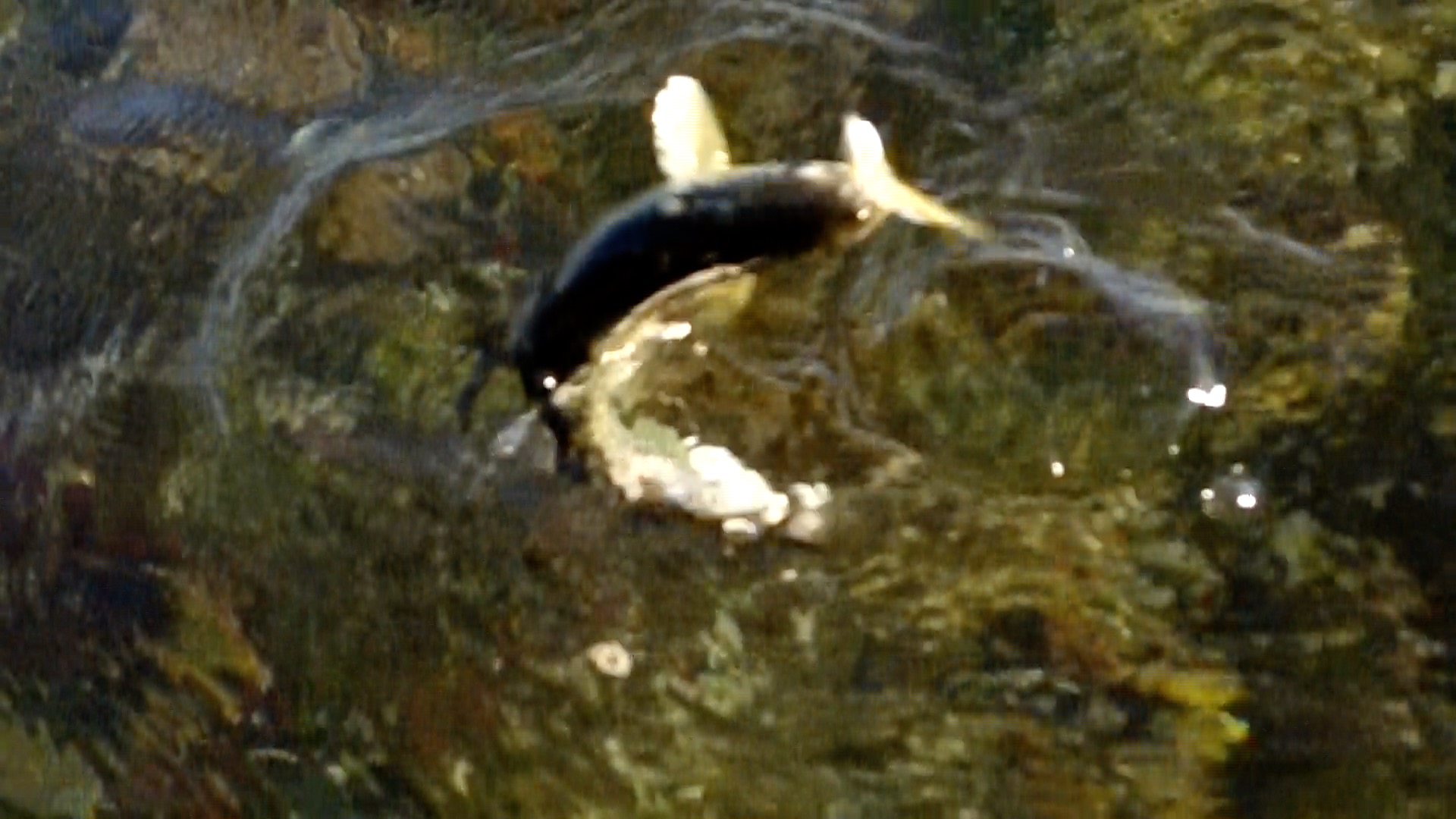 Article Name
Searun Cutthroat - Success!
Description
Finally! After several false starts and half-hearted attempts to pursue the elusive PNW Searun Cutthroat, I finally connected with not just 1, but 3!
Author
Publisher Name
Publisher Logo