Seattle's Eastside in King County features an array of cities that offer distinct lifestyles in diverse communities. From trendy urban hot spots to quiet, secluded neighborhoods, to a place to commune with nature, Eastside has it all.
Bellevue
At the start of your bond with Bellevue, you may become well aware of why its French meaning of "beautiful view" is amazingly accurate. Bellevue is surrounded by awe-inspiring mountains, sparkling lakes, and an array of land-based and water activities.
Shopping turns your day into a fun outing when you visit the region's best two shopping Centers – The Bellevue Collection and Bellevue Square, which features more than 200 boutique shops.
Bellevue is brimming with restaurants to suit any taste or occasion, from small coffee shops and cafes to exquisite fine dining experiences.
With a focus on outdoor recreation and fun with family and friends, Bellevue has established more than 2700 acres of parks.
But many residents moved to the area strictly for its renowned public school system managed by the Bellevue School District. The award-winning, high-performing district oversees 16 elementary schools, a Mandarin Dual Language elementary school, a Spanish Dual Immersion Program, five comprehensive middle schools, four comprehensive high schools, and two choice schools.
About 144,444 people have chosen to tailor their lifestyles in Bellevue, an area that spans 30.7 square miles. The median household income is $121,168, impressively higher than the state's median household income of $70,979.
Issaquah
Issaquah, Washington, is a historic city imbued with nostalgic charm and tradition. The close-knit community is recognized most for its paraglider activity at Poo Poo Mountain, a celebrated, colorful element of life in Issaquah.
The tree-lined streets of Issaquah present a tantalizing selection of diverse restaurants with eclectic menus, whether you're hungry for a casual bite to eat, a sweet treat, or a night of fine-dining.
Issaquah is also known for its salmon hatchery and the annual Salmon Days Celebration, where thousands of visitors gather to experience the return of fish to the city following their migration to the ocean.
Issaquah School District is one of the top-rated districts in the state, serving Issaquah and surrounding areas. Within the Issaquah School District, there are 15 elementary schools, five middle schools, and four high schools.
There are about 40,000 residents in Issaquah, which spans a total of 8.42 miles. The Issaquah annual median household income is a comfortable $108,210. Homes in the area have annual median values of $634,145.
Homes for Sale in Seattle's Eastside
Sammamish
Sammamish is a small piece of paradise, distanced from the noise and congestion of surrounding cities. The community of Sammamish, infused with civic pride, is one that believes healthy, active lifestyles shared with friendly, helpful neighbors.
Students attending public school in Sammamish attend schools that are governed primarily by Lake Washington School District, with a small portion going to the Issaquah School District. The Lake Washington School District manages a total of 33 elementary schools, 14 middle schools, and ten high schools.
While other nearby communities boast high-end malls, trendy boutiques, and big-box retail stores, Sammamish is a quiet, calm community where, instead of the invasive sounds of buses and sirens, you hear the laughter of playing in one of the many parks that Sammamish immaculately maintains.
About 65,000 people have chosen the quiet, tidy community of Sammamish. Those residents enjoy median annual household incomes of nearly $170,000. Home values in Sammamish average around $858,000.
North Bend
North Bend is a community wrapped in nature with breathtaking views of rivers, mountains, and lakes, tucked in the middle of the enchanting woods along the Snoqualmie River Recreational Area and Rattlesnake Lake. The area is also known for the stunning Snoqualmie Falls, a 268-foot gushing waterfall.
Residents of North Bend take advantage of more than 170 trails and a plethora of area parks.
Although North Bend offers a variety of restaurants, Twede's Cafe is a popular eatery for its fame as being the restaurant from Twin Peaks, "The Double R Diner."
North Bend also has the largest and oldest continuously operating railway museum, Northwest Railway Museum. There is a collection of artifacts and equipment that is considered one of the most significant in the US.
Students attending public school in North Bend belong to the Snoqualmie Valley School District, one of Washington's largest. The highly-acclaimed school district earned the coveted AP Honor Roll designation for six years running.
Snoqualmie
Snoqualmie city is home to the Northwest Railway Museum. The population was 10,670 at the 2010 census and an estimated 13,622 in 2019. The city's scenic and recreational attractions are fostering the growth of a significant local tourism industry.
Kirkland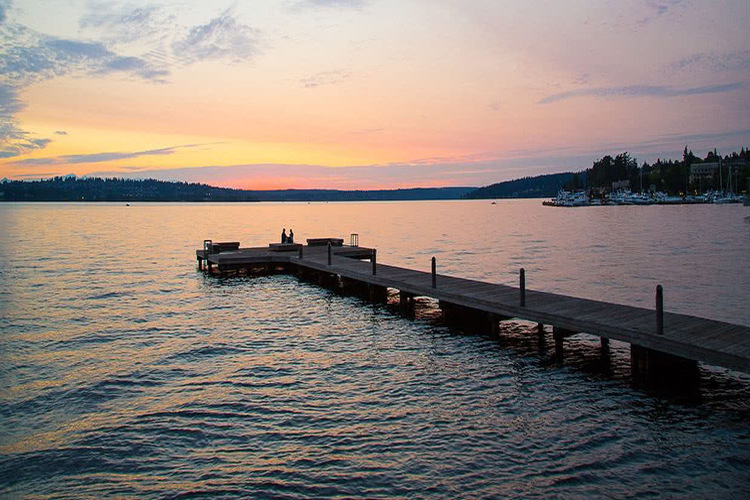 Kirkland is a city in King County, Washington, United States. A suburb east of Seattle, its population was 93,010 in a 2019 census estimate, which made it the sixth largest city in the county and the thirteenth largest in the state.
Are you looking to buy or sell a home?
Call Dennis Pearce Now